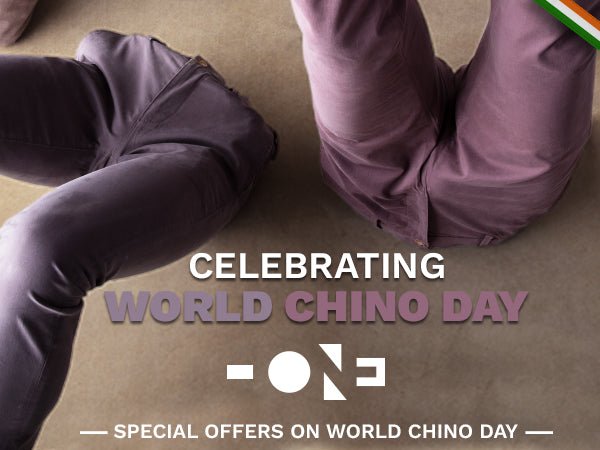 3rd April marks the celebration of World Chino Day. It is an impactful initiative taken by Minus1, in which the brand urges people to appreciate the most worn men's bottom wear. The motive of the day is to be a part of men's #fashionrevolution and acknowledge the importance of chinos. The day encourages everyone around the globe to wear their favourite chinos and celebrate chino's existence.  
It's amusing that we know so little about the pants that we wear regularly. So, roll up your sleeves and let us dig into it. Initially, chinos were considered military uniforms. It is made with the most comfortable and durable fabric. The British and United States armies started wearing it as their standard uniform during the end of the 1800s. Since then, chinos have become an important piece of clothing. Initially, they were available in khaki colours only. Now, these pants are a big part of formal wear, people across the globe wear them to their offices, parties, feasts etc. 
If you are one of those who wear chinos regularly, you should definitely be a part of this celebration. All you need to do is post a favourite photo of yours in chino and tag @minusonelifestyle using #worldchinoday on various social media handles. Also, the bumper surprise is Minus1 has some very exciting and special discounts on their day-long chino pants. You can register yourself and shop from minusonelifestyle.com. 
Minus1 decided to bring a revolution in men's fashion. They came up with an innovative idea of inserting elasticated waistbands in chinos. Trust us when we say that this is going to be the new future in men's clothing. T elasticated waistband stretches up to 3 inches. All-way stretch chinos are eco-friendly and sustainable. Minus1 lifestyle has a variety of ranges from naked elephant to stained olive to knight blue colours that you might have never seen before. So, hurry and buy the day-long chinos from Minus1lifestyle. The brand is offering a flat 20% discount on your first purchase. Visit their website to unveil m offers on 3rd April 2022 which is World chino day. A bundle filled with surprises like special refer and earn schemes, different size charts and what not so, make haste and lose no time, get your favourite chino now.
Join the trope and be a part of the first-ever celebration of world chino day with Minus1.